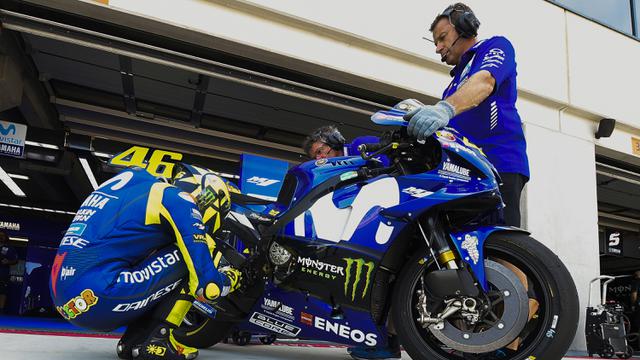 Movistar Yamaha rider Valentino Rossi checked his bike during the Aragon MotoGP training session in the Aragon Circuit, Spain (AFP / Jose Jordan)
Movistar Yamaha team is experiencing a crisis. This is considered to have similarities to what Suzuki felt last season. The analysis came from the statement of MotoGP observers, Carlo Pernat. Pernat stated that the failure of the M1 engine in the MotoGp event this season has in common with what happened with Suzuki. So it is difficult to overcome this problem.
"I see a lot of similarities with what happened last year with Suzuki. This crisis is increasingly difficult to overcome considering the problems have been related to electronic devices, chassis and grip," said Pernat quoted from Insella on Monday (1/10/2018).

Furthermore, Pernat added that it was difficult to predict whether the M1 engine would be the top problem next year. Because Yamaha is considered slow to innovate after the departure of Masao Furusawa which is part of the history of the Garpu Tala team.
Affect Drivers
Pernat regretted what happened to Yamaha and this had an impact on the mentality of Valentino Rossi and Mavercik Vinales.
Because, they look frustrated facing the problems faced by M1 in
MotoGP
.
"Now Ducati and Yamaha have had a difference seven years ago, especially in the back problem. It's a pity, because Rossi is third in the standings, others have made a lot of zero, but this is third place that looks a bit like fifth. , "Pernat concluded. ( David Permana)