Hurricane Florence has made landfall on the US East Coast, bringing with it winds, heavy rains and warnings of "catastrophic" floods.
The centre of the storm struck Wrightsville Beach in North Carolina, with gales of up to 90mph (150 km/h).
Its outer bands have already inundated coastal areas. Scores of people are currently waiting to be rescued in the city of New Bern.
Evacuation warnings are in place for more than a million people.
The governor of North Carolina said surviving the storm would be a test of "endurance, teamwork, common sense, and patience".
"The first bands of the storm are upon us but we have days more to go," Roy Cooper said.
National Weather Service forecaster Brandon Locklear said North Carolina is likely to see eight months' worth of rain in two to three days.
What are the dangers?
Conditions deteriorated throughout Thursday. Some areas of North Carolina saw almost a foot of rain just a few hours, and footage showed sea levels begin to surge in land.
At 23:00 local time (03:00 GMT) the National Hurricane Centre (NHC) said wind speeds had slightly lowered, making it a category one hurricane.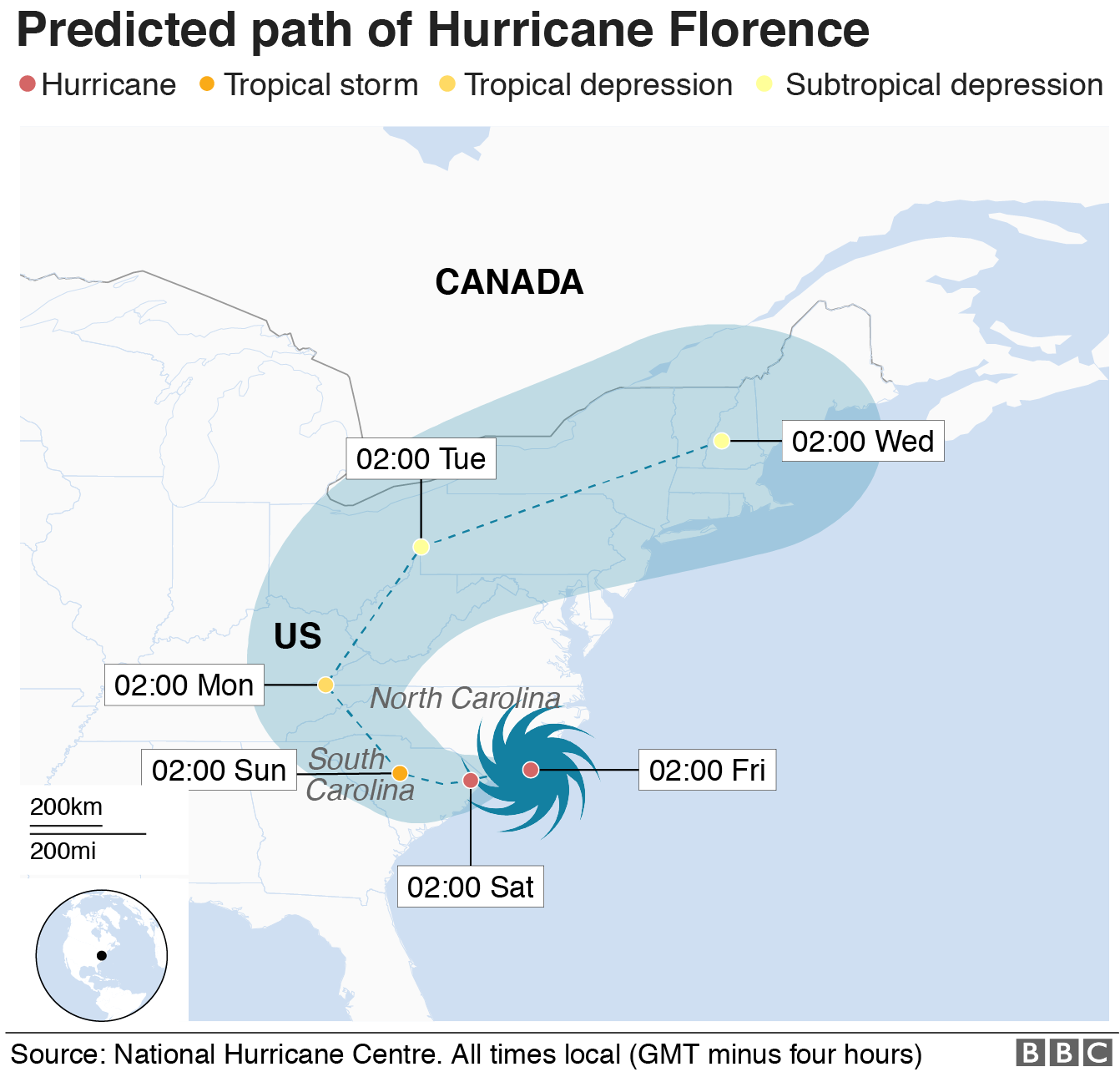 The NHC says that despite the gradual lowering in wind strength, the storm remains extremely dangerous because of the high volume of rainfall and storm surges predicted.
"Inland flooding kills a lot of people, unfortunately, and that's what we're about to see," said Brock Long, head of the Federal Emergency Management Agency (Fema).
He said that people living near rivers, streams and lowland areas in the region were most at risk.

How are people coping?
More than a million people have been ordered to leave the coasts of the Carolinas and Virginia, with more than 12,000 taking refuge in emergency shelters.
Asked what she was most worried about, Monica Scott, a young mother who had brought her children to a shelter in North Carolina, said: "Not having a place to go home to, or a job."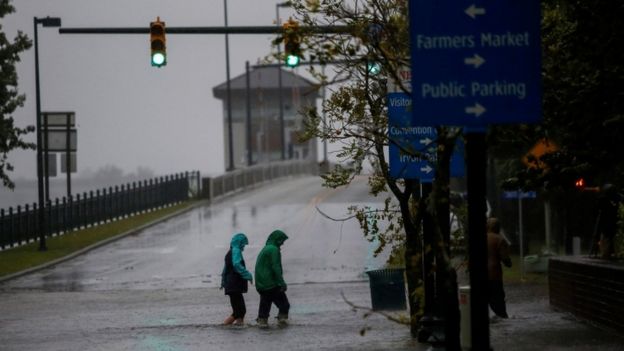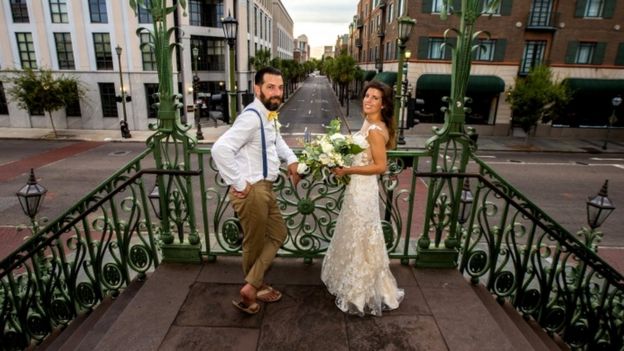 Not everyone though has obeyed the warnings.
A man in North Carolina said he would stay with his dog, since shelters were not taking pets. "I'm not leaving him here," Antonio Ramirez told the AFP news agency,
More than 150,000 people already without power, but energy companies warn up to three million homes and businesses could also lose power.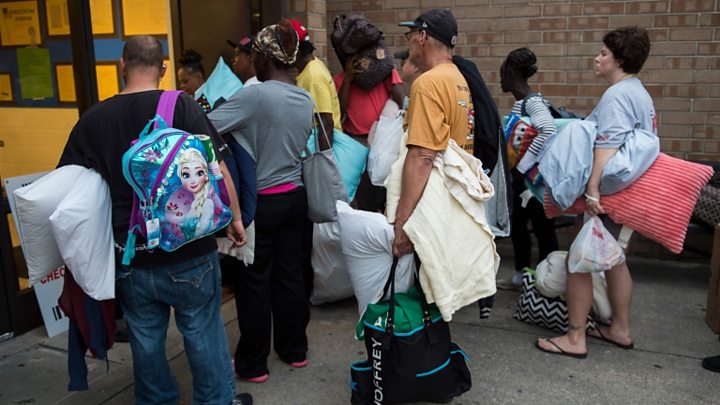 Officials have warned restoring electricity could take days or even weeks. Petrol stations in the area are also reporting shortages.
Parts of New Bern, North Carolina, are 3m (10 feet) underwater and 150 people are waiting to be rescued, authorities there said.
Davice Daniels from the New Bern Police Department said those unable to leave their homes should move up to higher floors.
Over 1,400 flights have been cancelled, according to FlightAware.com, as most of the coastal region's airports are closed to ride out the storm.
Emergency workers are arriving from other parts of the US to aid in rescues.
How long will this last?
Latest predictions show the storm slowing to a near standstill as it pummels the coast with "copious amounts of rain" from Thursday night to Saturday.
Wind speeds are only expected to weaken on Saturday as the storm moves slowly across land.
loading...