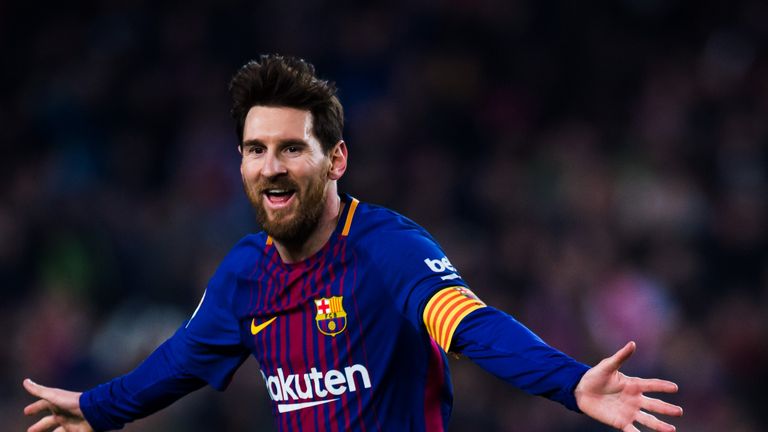 Guillem Balague runs through five things from La Liga this weekend, and after scoring his 600th career goal, Sky Sports' Spanish football expert says the league belongs to Lionel Messi.
The Argentine netted the only goal in Barcelona's 1-0 win against Atletico Madrid to send them eight points clear at the top of the table, with Messi continuing to break records.
Elsewhere, third-placed Real Madrid picked up a 3-1 win against Getafe, but they are being closely chased by Valencia, who themselves beat Real Betis 2-0 on Sunday. Balague discusses this and more in his review of the weekend's action...
Magical Messi
The first point to make from the weekend is Messi, of course. This is yet again Messi's league. He scored his 600th goal as a professional and over 1,000 since he first started playing football but nobody knows exactly how many. I know people who are working to try and find out the exact numbers but it is 600 since he became a professional.
He has been at this level for 13 years, not just a few months here and there - and it is not just about scoring goals, it is about assisting as well. On Sunday, it was about managing the game from the midfield. He also worked very hard without the ball, he recovered six balls. It's a World Cup year, so the sooner they have the league wrapped up, the sooner they can focus on other stuff.
There is another side to this of course, you have to wonder how Barcelona have only won four Champions League titles with him in that 13-year period because I don't think there is any doubt in the mind of anybody now that he is not only the best player of his generation, but the best player ever - and he keeps breaking records.
It was his third consecutive free-kick in three games, and something my friend Mister Chip said on the internet, not even Ronald Koeman, Roberto Carlos, Ronaldinho, Duda, Rivaldo or Cristiano Ronaldo - all of those guys who are specialists in free-kicks - have been able to do it before. The percentage of goals going in for the top free-kick specialists is about seven per cent, so it makes it even more special that he's been able to do it in three consecutive games.
There are a couple of things that tell you how he has been preparing for these free-kicks. When he first arrived at Barcelona, he used to sit on the sidelines and watch Ronaldinho and Deco taking them and then, when nobody was around, he would do it himself without boots because he felt he could control the ball better in bare feet.
Malaga vs Barcelona
March 10, 2018, 7:40pm
Live on
But then in 2009 in a training session in Marseille, Diego Maradona gave him more advice. He took some free-kicks and they either went too high or too far down the sides. The Argentina physical coach at the time was Fernando Signorini, who I spoke to a few times when I did the Messi book. He recently told a story about Messi going to the changing rooms having done so badly and Maradona said ,'Where are you going? Wait, I'll tell you the thing to do. You don't have to release the foot so early, otherwise the ball doesn't get to know what you want. You have to treat the ball as if you are talking to it. You have to cushion the kick, not just kick it without thinking and in that way, the ball will respond to you better.' That was Maradona's advice and it seems to have worked.
Simeone tactics wrong but Gimenez shines
Jose Gimenez showed to be one of the best centre-backs in the world. It is interesting that at the end of the game, even ahead of Diego Godin, he was talking about the lack of attitude from the team in the first half but they actually had a plan and that was to keep it tight in the first half and attack in the second half, because they were aware that Barcelona were tired.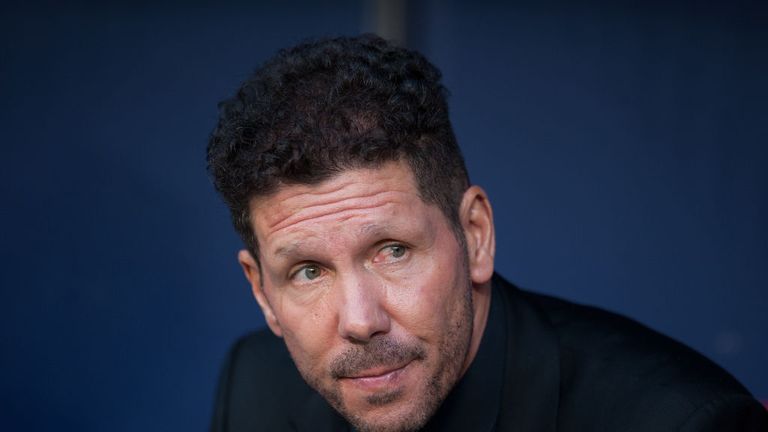 They had arrived back home at 5am on Friday morning after the Las Palmas trip, one of the longest ones in La Liga, and there was a complaint from Sergio Busquets that they could have played on Wednesday as both sides, Barcelona and Las Palmas, had been on action the previous Saturday.
They were tired, Busquets admitted it, so why was it that those were Atletico's tactics - to contain Barcelona in the first half and go after them in the second? Why not do it the other way around? I supposed hindsight is a wonderful thing, but I think Diego Simeone got it wrong with a line-up that had the message, 'We are going to contain', so for instance Angel Correa was out of the team because he prefers to play with four central midfielders in Gabi, Thomas, Koke and Saul.
But Atletico are now used to, in a lot of big games, not risking a lot but the ball never got cleanly to Antoine Griezmann or Diego Costa. I think Simeone could have sent a different message with at least an extra forward if he felt, as we all did, that Barcelona were there for the taking. If he had gone at Barcelona from the beginning, it might have been different but quite clearly, when they tried to do that, Barcelona were able to defend very well.
Gimenez had a really good explanation on how to stop Messi. You actually give him your left-hand side and his right-hand side because it is more difficult for him to attack that way, and you only intervene or put a foot in at the last second, just before he has got to take a decision. Gimenez did that perfectly well, he was brilliant against Messi, Philippe Coutinho and Luis Suarez, he is in great form. And as the Uruguayan that he is, he has got the right personality to go alongside his talent.
Barcelona's strong defence
Neither Costa or Griezmann did anything in the whole game, Atletico Madrid had no scoring chances and Barcelona were fantastic defensively as a team. Everybody defended, the lines were together and they realised they were going to struggle in the second half so they had to allow Atletico to have more of the initiative but at that point, they applied themselves to suffer.
Andres Iniesta's injury looks bad and I'm surprised that if he felt there was a muscle problem, he stayed on having felt that pain. He hopes to return for the Chelsea game but it will be difficult to do so. Also, Iniesta is at the end of his career and is not in a position to go to Manchester City at all. It doesn't make sense whatsoever. The next step for him is either staying or he has big offers from China. He lacks the pace that needs to be applied for the City game both on and off the pitch.
Coutinho started on the right-hand side, but I think it is a mistake to put him there - Valverde must have taken note. He didn't know what he had to do when Barcelona were attacking. He was close to Suarez, especially when Messi went to the right-hand side of the attack. But when Barcelona lost the ball, you saw he was lost, he did not know where he had to defend. Busquets, Messi, even Iniesta stopped to advise him in those 20 first minutes.
When Iniesta got injured, he moved to the left-hand side where he felt much more comfortable and grew into the game. He is still not sure what to do in the side and it will take a while. He comes from direct football and this Barcelona side is completely different. He maybe would have adapted quicker to a Luis Enrique team, but under Valverde it is more possession-based and a positional game.
Since Christmas, it has gone from 11 points to five points between Atletico Madrid and Barcelona, and now it is eight points, so you have to say that there is still a chance for Atletico to get closer but of course, Barcelona would have to lose three games in the 11 left and it is difficult to see that happening.
The future of Zidane
The future of Zinedine Zidane has been linked for a while with Real getting into the next round of the Champions League. He has got a contract until 2020, there is no clear replacement for him and he has good relationships throughout the squad. He knows there are new players coming in, top players who will give a push to the team.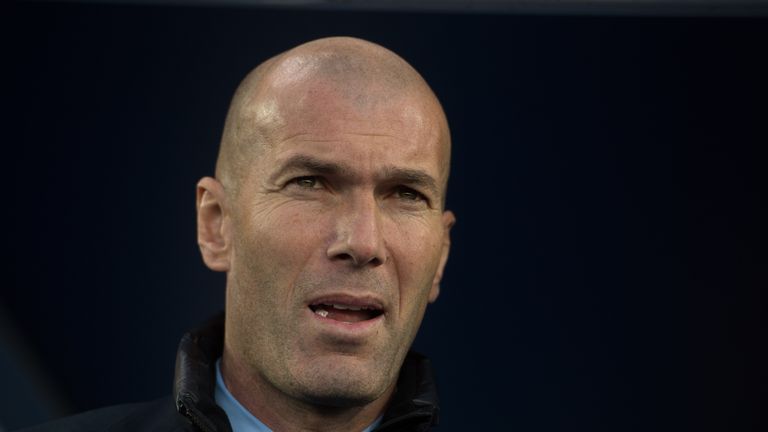 I don't think Real can convince Mauricio Pochettino, Joachim Low is with the Germany national team and Jurgen Klopp isn't going to leave Liverpool, so there is no clear replacement. Despite the fact Zidane himself has been considering leaving Real, I just wonder if the club will convince him to stay.
Muiz sacked by Levante
Juan Ramon Lopez Muniz was sacked by Levante after the worst run by the club in history and there are 11 games to play. Two weeks ago, they told him they trusted him but there has only been one point from nine since then. The goal that drew the game for Espanyol came in the 91st minute, and if they didn't score, Levante probably would have kept Muniz. What's the point in taking those kinds of decisions with 11 games to go?
Yes, he's only got five points from the last 45, one victory in the last 22, but he would defend himself by saying, 'But Levante have not been in the bottom three for the whole season', and it has been three months of pessimism with people thinking things will go really badly.
The point to make here is the power of sensations. The general feeling is something you cannot hold in your hands, that gets created in the 'atmosphere' and neither stats or a victory here or there can change. Less than a year ago, Muniz took Levante from the second division to the first division in the most glorious way. Clearly, he didn't have the charisma to win everybody over but he was all about working hard and always had respect for the club.
The decisions he made during the games and the words he used in press conferences was enough to give him credit. Once he went up, Levante gave him a new contract until 2019 and he started very well to be honest with nine points out of 15, but then it all went wrong. His credit has run out. There is this impression that the grass is always greener on the other side just because get tired of faces but it isn't always greener. Be careful what you wish for, especially when you forget what you are about.