Reuters
DAILYNEWS
-
The Saudi Arabian Defense Ministry pointed out what they claimed was the remains of Iranian unmanned aircraft and cruise missiles in an attack on two Arab oil facilities last weekend.
The Saudi Defense Ministry said as many as 18 drones and seven missiles were launched from directions not from Yemen.
Earlier, Houthi rebels in Yemen, backed by Iran, said they were carrying out attacks in retaliation for Saudi air strikes.
Iran has repeatedly denied involvement while warning that it will respond to attacks aimed at them. However, the US has insisted that Iran was behind the attack.
US Secretary of State, Mike Pompeo, called the drone and missile attack on Saudi Arabia's oil facilities on Saturday (09/14) an act of war.
While US President Donald Trump said the US had "many choices" to respond.
"There are ultimate options, and there are far fewer options than that," he said.
"And we will see. We are in a very strong position."
What are Saudi findings?
The Saudi Defense Ministry showed debris from unmanned aircraft (UAVs) and missiles during a press conference.
A Defense Ministry spokesman, Colonel Turki al-Malki, said evidence showed the attack was launched from the north and was "undoubtedly sponsored by Iran".
However, Malki said the Saudis were still "trying to find out exactly the launch point".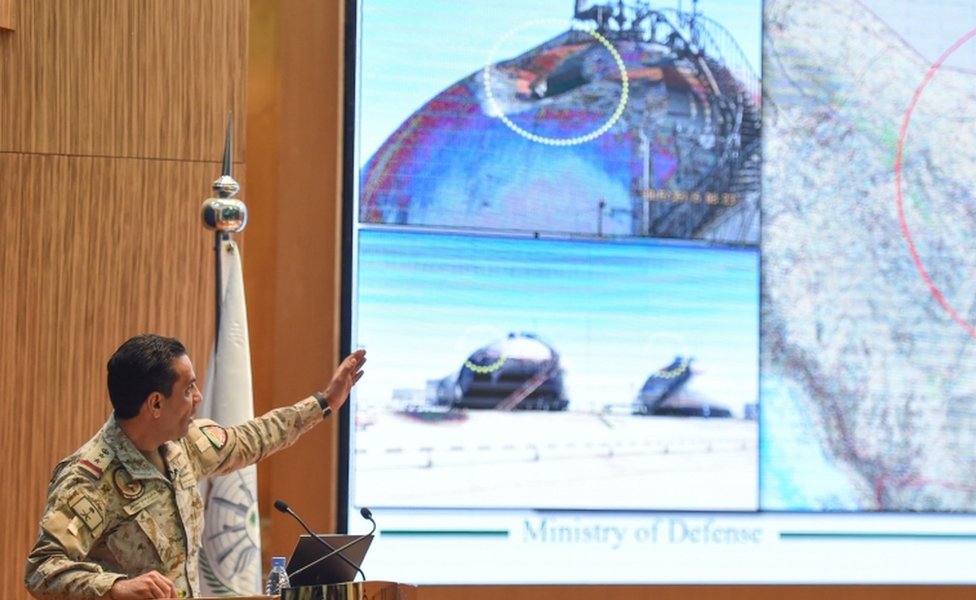 Turkish defense ministry spokesman al-Malki presented maps, photos and videos from Saturday's attack - AFP
Among the debris, there is an object called the Saudi Defense Ministry as the delta wing of the Iranian unmanned aircraft (UAV).
Malki said: "Data recovered from a computer [on the UAV] shows it belongs to Iran."
He said that 18 UAVs had fired at Abqaiq oil facilities and seven cruise missiles had been launched at both targets.
Four cruise missiles struck the Khurais oil field and three others fell near Abqaiq.
Malki said that the missiles launched all came from the north.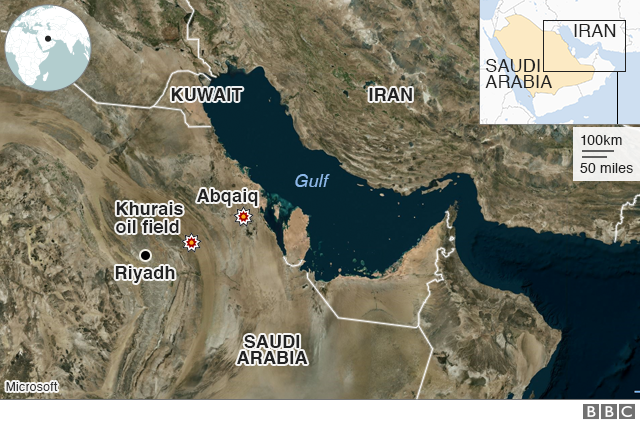 - BBC
He showed a video of one UAV about Abqaiq, along with maps and photographs of damage.
He said of the attack on the Khurais oil field that "the impact of cruise missiles demonstrates more sophisticated capabilities beyond the capacity of the Iranian proxy [Houthi rebel forces]".
Malki said details of the launch point could not be given yet, but he said he would announce it as soon as the launch point was found.
He said: "Although Iran made its best efforts to make it appear so, their collaboration with their representatives in the region to make this false narrative clear."
He called the attack "an attack on the international community ... Those responsible must be held accountable for their actions".
Important questions that have not been answered
Analysis by the BBC's defense and diplomatic correspondent, Jonathan Marcus
The graphic data and debris presented at the Saudi military press conference did not say much about important questions.
Are the weapons used in the attack on Saudi oil installations actually being fired from Iranian territory?
All we get is a cryptic statement that the weapons came from the north.
There are more details about the weapon itself: about 25 of them are a mixture of UAVs and cruise missiles. The cruise missiles were identified as Ya-Ali missiles made in Iran.
Iran appears to be heavily involved in all affairs, but the explanation only ends there while the Saudi investigation continues.
US officials, who do not want their identities publicized, appear to be convinced that Iran is directly involved. However, it is the Saudis who seem to be setting the rhythm.
Is this an attempt to give enough time to reconnect with Tehran? Or is this a form of crisis management - revealing many things in the hope that escalation can be avoided?
How is Iran's reaction?
There has been no official response from Iran about the press conference.
The Irna news agency had previously reported that Iran sent a diplomatic note which read: "If there are actions taken against Iran, they will immediately be confronted with Iran's response."
Reuters news agency quoted the Iranian president's advisers as saying the briefing showed Saudi Arabia "knew nothing" about the attack.
A spokesman for the Houthi rebels in Yemen said the satellite imagery was fabricated and the damage to Saudi facilities had been reduced.
Military spokesman Yahya Sarea stressed again that Houthi forces were behind the attack, and detailed the types and range of missiles and drones they could use.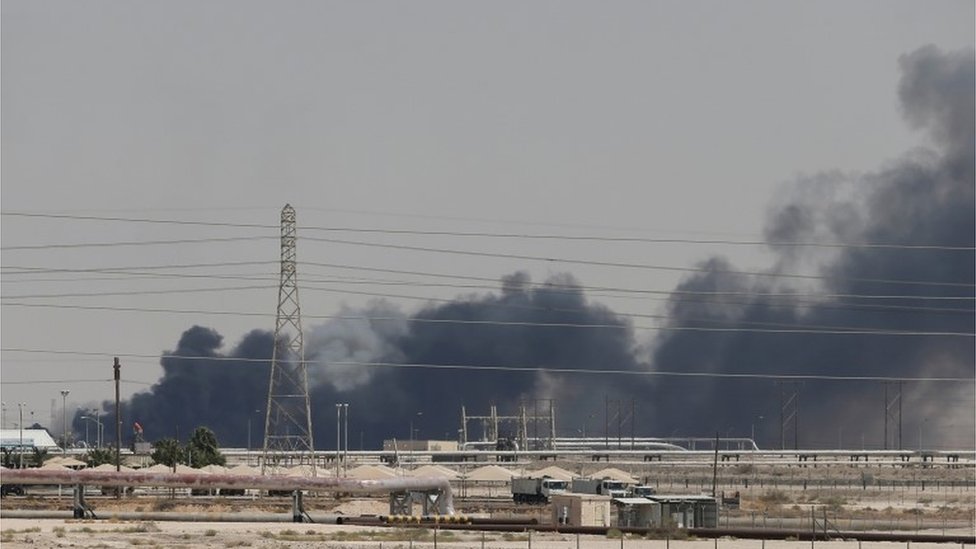 A plume of smoke was seen at the Aramco facility in Abqaiq City, Saudi Arabia.
- Reuters
What is the next step?
Although the US has made it clear that it believes Iran is behind the attack, President Trump has shown himself reluctant to be involved in the military response.
On Wednesday (18/09) he said it was "very easy" to get involved in a military conflict. However, according to him, lessons from the Middle East prove that it later became difficult.
Before the Saudi briefing took place, Trump announced that he had instructed the Ministry of Finance to "substantially increase US sanctions" against Iran after the attack.
Trump said there will be more details in 48 hours. Current sanctions are already widespread, aimed at reducing Iran's oil exports and paralyzing its economy.
Pompeo then met Saudi Arabia's crown prince, Prince Mohammed bin Salman, to discuss strategies on this issue.
UN experts have gone to Saudi Arabia to investigate the attack, said Secretary General Antonio Guterres, warning of "devastating consequences" of a major confrontation.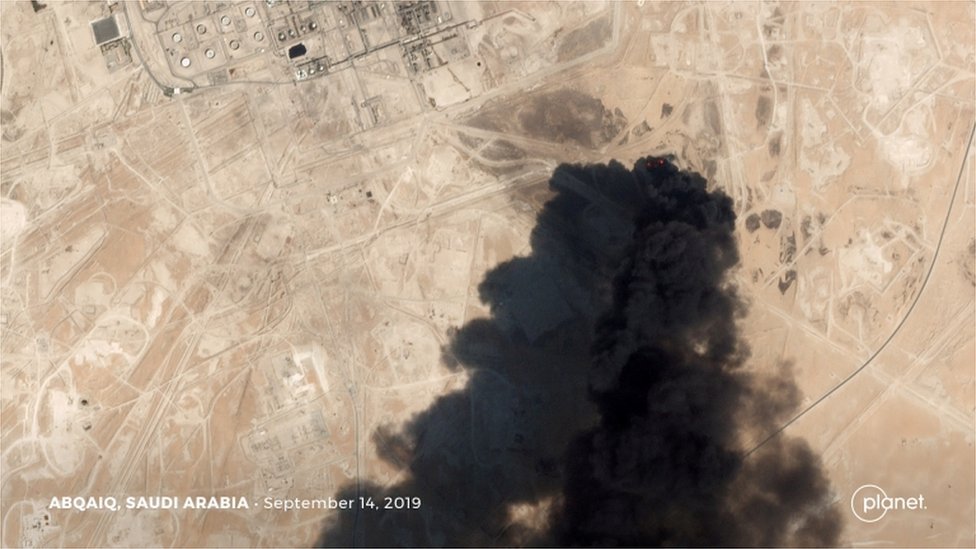 Satellite photos show clouds of smoke at Saudi oil facilities in Abqaiq City.
- Reuters
What is the background of all this?
Abqaiq - managed by the Saudi state oil company Aramco - and the Khurais oil field were hit by drones and missiles on Saturday (09/14) morning.
Houthi rebels have repeatedly launched rockets, missiles and unmanned aircraft in populated areas in Saudi Arabia.
Iran is a regional rival of Saudi Arabia and opponents of the United States, which withdrew from an agreement aimed at curbing Tehran's nuclear program after Trump took power.
US-Iran tensions have risen sharply this year.
The US said Iran was behind attacks on two oil tankers in the Gulf in June and July, as well as four others in May. Tehran rejects the allegations in both cases.